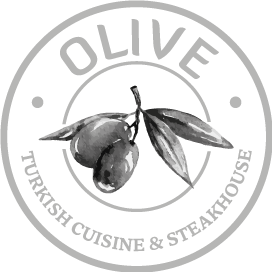 Turkish Cousine & Steakhouse
Since 2013 we have been celebrating the extraordinary combination of traditional Turkish cuisine with a passion for high quality and regional meat in the Restaurant Olive. Mediterranean dishes, refined vegetarian delicacies and characteristic steak cuts are our trademark. We look forward to being your host for a first class evening.
Mediterranean Kitchen
Fresh seafood, Mediterranean herbs, regional vegetables flavored with garlic and olive oil are the specialties on which our culinary culture is based. Our products are received exclusively from the surrounding region, which allows us to always maintain and improve quality.
Meat & Steak
Out of love and enthusiasm for high-quality goods, we started obtain the meat ourselves in our own Sayili butcher shop in 2020. This gives us the certainty that the animals are reared in a species-appropriate manner with plenty of freedom of movement on the pastures in the region. We exclusively offer the opportunity to purchase the noble piece of meat either on site or in our online shop.
Ambience & Premises
Our interior invites you to feel good. The stylish, subdued lights, warm concrete tones and tasteful wooden details will make your dinner a real adventure. With over 130 seats inside and in the heated outdoor area, it offers an appropriate setting for enjoyable hours.